Shared Storage: SSD Performance with HD Capacity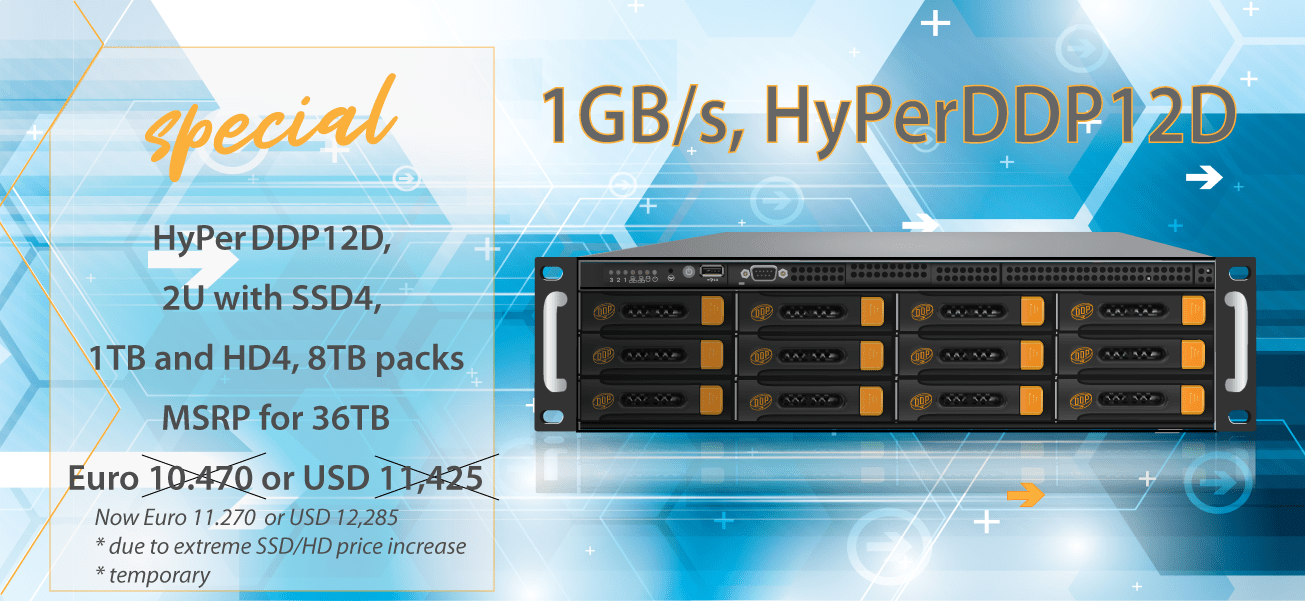 HyPerDDP12D comes with dual 10GbE/RJ45 ports and 2 extra PCIe slots for cards
Includes V5 scale out DDP Ethernet SAN software
Modular and capacity and bandwidth expandable within one file system
SSD and HD packs are RAID 5 protected
The HyPerDDP12D has 4 spare slots for additional SSD and HD packs
The HyPerDDP12D comes with 1 year warranty, see Delivery Conditions on www.ddpsan.com
Support can be purchased for 1200,- Euro per year, see Support on www.ddpsan.com
Available desktop drivers are always free. DDP updates are part of a support contract
The DDP components are of the shelf and replacements can be purchased locally
Archiware P5 is installed. Ask your dealer to purchase a license
Scale out shared storage solution for post production
Sliding arms can be supplied for 165,- Euro
Functions with Avid Media Composer, Premiere Pro, FCPX, DaVinci Resolve and MAM
Watch this video with a short explanation of the HyperDDP12D and SSD caching
| Video, audio and film formats example on reading | 1GB/s Ethernet SAN HyPerDDP12D |
| --- | --- |
| 4K, UHD, 3840x2160, 10 bit, 25fr/s, 840 MB/s | 1 |
| 4K, with Canon EOS C500, 4096x2160, 10bit, 24fr/s,300MB/s | 3 |
| Arriraw Open Gate, 3414x2198, 24fr/s, 270 MB/s | 4 |
| 4K,5K,6K Redcode, higest resolution and framerate,180MB/s | 5 |
| 3K, Arriraw, 24 fr/s, 168 MB/s | 6 |
| 4K, Sony, F55/F700 raw, 16bit, 24fr/s, 120 MB/s | 8 |
| HDCAMSR 444, 110 MB/s | 9 |
| HDCAMSR, 75 MB/s | 13 |
| DNxHD444, 55 MB/s | 17 |
| ProRes4444, 42 MB/s | 23 |
| 4K, R3D, 40 MB/s | 25 |
| 4K, Sony XAVC422, 10 bit, 30 MB/s | 33 |
| DNxHD220, 28 MB/s | 35 |
| ProRes HQ, 1080i60, 720p60, 1080p30, 28 MB/s | 35 |
| DNxHD185, 24 MB/s | 41 |
| ProRes HQ, 1080i50, 720p50, 1080p25, 24 MB/s | 41 |
| DNxHD145, 18 MB/s | 55 |
| HDCAM, 20 MB/s | 50 |
| Audio, 24 bit, 48 KHz, 100 tracks, 15 MB/s | 66 |
The stream count values in the table are minimum values for the DDP. The stream count of any format you use can be obtained by dividing 1000MB/bandwidth of your format.
Having an SSD cache and HD Data Locations has advantages:
1. Files transparently can be moved/copied within the HyperDDP12D between cache and spindles without changes to the directory tree.
2. Audio, DPX and low bandwidth video formats which give bad performance (seek time issues) with spindles, can be kept or consolidated on SSDs.
That way they do not influence the spindle performance of regular video formats.
3. If needed you can split copying / rendering from streaming with streaming materials on SSDs to prevent drop frames.
4. Because bandwidth of SSDs and spindles add up the DDP has a bandwidth of 1 GB/s plus the spindle bandwidth.
5. Files ingested to SSD are duplicated to spindles. The newest files are then on SSD and also on spindles.
6. Folder volume files can be pinned to cache.
7. Folder volume files can be copied on demand to cache.
Note: bandwidth during sustained writing or combining R/W may be lower.

Shared Storage combining SSD Performance & HD Capacity
36 TB shared storage capacity (2U with SSD4 1TB and HD4 8TB packs)
Modular High Performance Shared Storage for post production and broadcasting
Scalable Ethernet SAN for Avid, Premiere, Resolve, FCPX, Pro Tools and VFX
SSD cache performance with HD capacity for audio, video & film production and/or broadcasting
Ultra Fast Shared Storage with native Apple M1 support
Integration in Avid environments: Supports Avid FS and Avid bin locking
Always secure: DDP's scale out file system AVFS comes with HTTPS web browser access, two factor authentification, built-in auditing and encrypting