Micro DDP Series
The microDDPs are small, lightweight, low noise DDPs.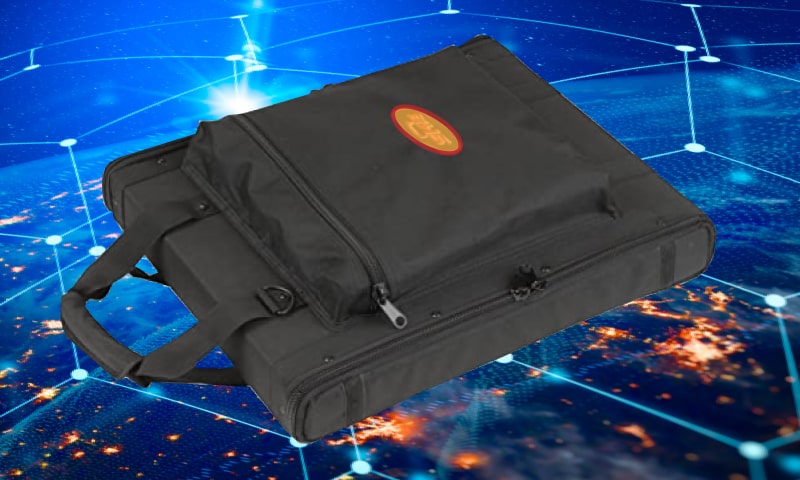 There is a 1GB/s and a 2,2 GB/s version. For companies involved in outside registrations – where size and weight matters – the microDDP is a good solution. Also when the company lacks a machine room and is looking for a low noise shared storage server the microDDP is a good fit. Lightweight also means that it can be hand carried and taken as hand luggage on a plane.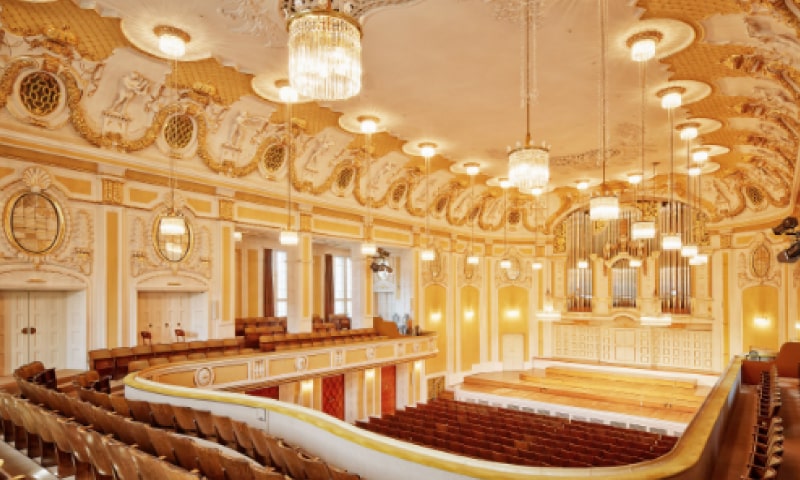 MicroDDPs are like all DDPs: Ethernet SAN systems. A DDP SAN utilizes the network most efficiently. Therefore despite the small footprint multiple users can share the highest picture quality used these days. CTOs, Technical Managers, Technicians and other interested in DDP technology please take the time also to read the technology page.
There are two microDDP base systems. They can be equipped with one SSD8 pack of 1, 2, 4 or 8TB SSDs. Because the SSD8 pack is configured as RAID5 the usable capacity is 7, 14, 28 and 56 TB (total 64 TB). Instead of an SSD8 pack they can also be delivered with a SSD4 pack.
microDDP1GbE
4 or 8 SSDs of 1, 2, 4 or 8 TB
RAID5
4x 1GbE / 2x 10GbE / RJ45
2x 10GbE / SFP+
1U / 11 Lbs / 5 Kg
9,8" / 24,9 cm
1000 MB/s
80W
low noise
hand carried

The microDDP1GbE has 4x 1GbE, 2x 10GbE / RJ45 and 2x 10GbE / SFP+ ports built-in and a bandwidth of 1000 MByte/s.
microDDP10GbE
4 or 8 SSDs of 1, 2, 4 or 8 TB
RAID5
2x 1GbE / 2x 10GbE / RJ45
1U / 11lbs / 5kg
10" / 25,5 cm
2200 MB/s
80W
low noise
hand carried

The microDDP10GbE comes with 2x 1GbE and 2x 10GbE / RJ45 ports and has a bandwidth up to 2200 MByte/s. The 10GbE ports can also be used as 1GbE ports. These 25,5 cm (10") and 24,9 cm (9,8") in depth DDPs run the full DDP software package.

SSDs are small, hardly produce heat, but most importantly they behave similar to memory. So how much material can be stored and how many users are able to work simultaneously?
7 TB effective capacity is enough to hold 70 hours of ProRes HQ or DNxHD220 video material or approximately 300 hours of DNxHD45 or more than 100 hours of Pro Tools 100 track sessions.

The picture on the top shows the microDDP1GbE. This model has the ports on the front. The bandwidth of the microDDP1GbE is enough to stream 25 streams of ProResHQ/DNxHD220 or 100 streams of lower video formats such as DNxHD45 or 15 streams of Red R3D material. The ports can be connected to laptops, desktops and workstations even without the necessity of a switch.

The picture below shows the microDDP10GbE with the ports on the front. Ports can be connected to a simple 1 or 1/10GbE / RJ45 switch to extend the range of clients connected. The bandwidth of the microDDP10GbE is 2,2GB/s. This bandwidth or IOPS are not influenced by video, audio or film formats used.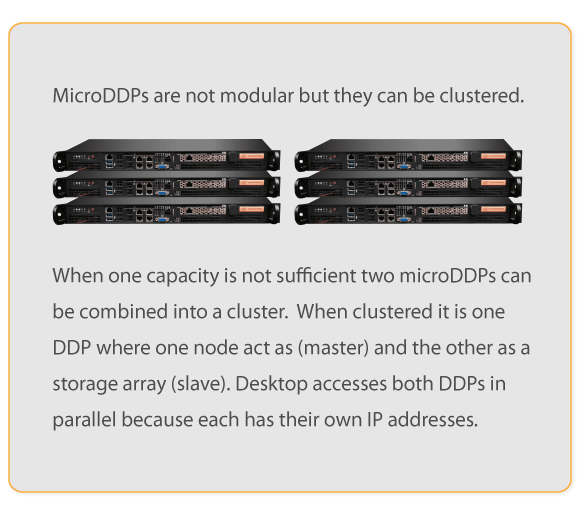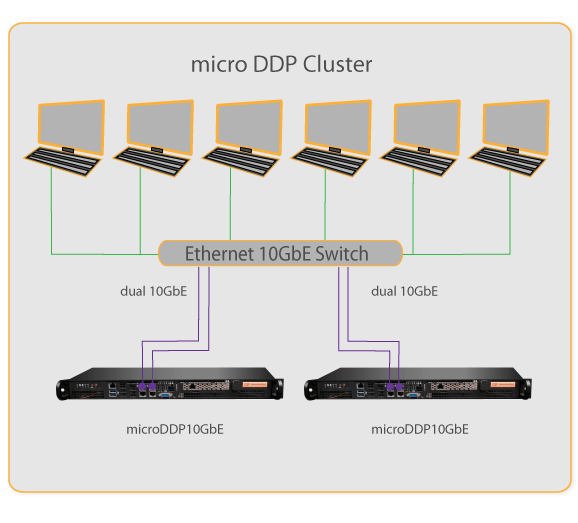 Here is an overview of the Stream Count and Capacity in Hours for various video, film and audio formats:
Video, Film or Audio Format
Streams on Reading
Number
of Streams
Hours per number
of Streams
4K, UHD, 3840x2160, 10 bit, 25 fr/s, 840 MB/s
2
2
2K, uncompressed, 10 bit, 2048x1556, 24 fr/s, 320 MB/s
4
6
4K, R3D, 40 MB/s
50
45
4K, Sony XAVC422, 10 bit, 30 MB/s
67
55
DNxHD220, 28 MB/s
70
55
ProRes HQ, 1080i60, 720p60, 1080p30, 28 MB/s
70
60
DNxHD185, 24 MB/s
83
70
ProRes HQ, 1080i50, 720p50, 1080p25, 24 MB/s
83
70
SD, uncompressed, 8 bit, 21 MB/s
95
90
DNxHD145, 18 MB/s
111
100
HDCAM, 20 MB/s
100
100
ProRes, 1080i60, 720p60, 1080p30, 18 MB/s
111
100
ProRes LT, 1080i60, 720p60, 1080p30, 13 MB/s
154
140
ProRes LT, 1080i50, 720p50, 1080p25, 11 MB/s
180
165
AVC-intra100, DVCProHD100, DV100, 12 MB/s
167
165
AVC-intra50, IMX50, AVCHD, DVCPro50, 6 MB/s
333
305
DV25, XDCAM HD, XDCAM EX, IMX30, MPEG30, 4 MB/s
500
460
MPEG2, OffLineRT, 1 MB/s
2000
1800
Audio, 24 bit, 48 KHz, 100 tracks, 15 MB/s
133
115
Audio, 24 bit, 96 KHz, 100 tracks, 30 MB/s
67
50