About Us
Ardis Technologies BV is a Dutch company based in Arnhem and started as a technical ICT company with consultants, software design & coding engineers, specialists in electronic design and product & information management. They concentrated on developing one-stop-shop solutions for products or projects involving electronic and/or hardware design and software.
Currently, Ardis Technologies BV is focusing on the development and manufacture of its Dynamic Drive Pool series.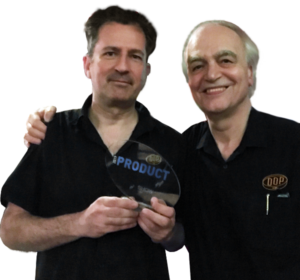 Jan de Wit and Bart Thissen are the owners of Ardis Technologies. They had met on an exhibition and started working together when Jan, as a representative of Synclavier, got a request for a 31 tonal per octave organ. Bart and Jan are still working together but now on the DDP.
The DDP products are sold worldwide through a network of distributors and dealers. Customers are postproduction houses, broadcasters, rental companies, universities, schools and churches. Customers are small boutiques but also large broadcasters. Because the owners have no obligations to external parties they can be and are fully committed to the DDP end users who work with it every day.
The DDP is the easiest and fastest SAN around. It is one system (a DDP), one network (Ethernet) and all from one manufacturer, Ardis Technologies BV.