DDP10EF: 1U, 19", up to 40GB/s shared storage
for 8K DPX and all other formats
The DDP10EF is for companies looking for shared storage for workstations working with up to 8K uncompressed material (up to 10GB/s). Protocols which can be used are NVME-oF/RDMA, iSCSI and SMB.
The DDP10EF base system is a 1U base system. EF stands for Extreme Fast because it combines the use of NVME Flash memory with fast CPU's. The DDP comes standard with one PCIe, Gen 4 x 16 full length slot, two AIOM slots for ethernet cards and 10 x 2,5" NMVE carriers.
The bandwidth of the system scales approximately linear with the number of NVME SSD's  with Raid 5 up to total 40GB/s on read and up to 24 GB/s on write given the proper CPUs and cards. Bandwidth per desktop on Linux and Windows can be up to 10GB/s when using NMVE-oF/RDMA. When using the iSCSI protocol bandwidth on read is up to 3 GB/s.
The SSD's are raid 5 protected. So the capacity is the number of SSD's -1.
The base system can be delivered with NVME SSD4 and NVME SSD6 pack with SSD capacities of 960 GB, 1.92 TB, 3.84 TB, 7.68 TB, 15.36 TB and 30.72 TB each.
Play Video
CEO Jan de Wit about the DDP10EF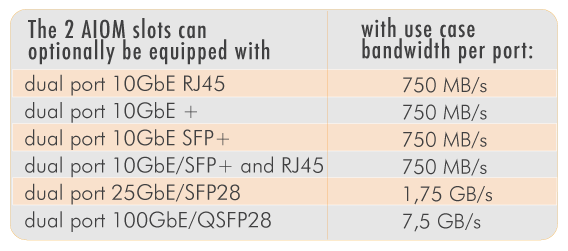 The one PCIe slot can optionally be equipped with an EX card or a single or dual ethernet card, 10, 25, 40, 56, 100 or 200 GbE. With the 200 GbE port the use case bandwidth per port is 15GB/s.
To use the DDP10EF as extreme performance file based cache system in combination with spindles in the PCIe slot an EX card can be installed. A DDP16EX, DDP24EX and / or DDP78EXR can then be integrated.
These storage arrays can be equipped with 2, 4, 6, 8, 10, 12, 14, 16 and / or 18TB spindles.
An EX card is necessary to connect the arrays to the DDPEF base system. The EX card must be placed in the available PCIe slot.
It is advised to use the flash in the DDPEF as cache. In that case the system delivers NVME SSD performance with HD capacity.